Early Years Foundation Stage
We warmly welcome enquiries from parents to join our EYFS classes and have produced a short video to give you a short introduction to life in EYFS.
At Middleton, we believe that every child is unique and individual, and will make progress at different rates. In order to thrive, learn and develop, they need to have opportunities to create positive relationships with others and explore environments that stimulate their curiosity. These principles underpin all aspects of teaching and learning in the Early Years Foundation Stage.
The Early Years Foundation Stage (EYFS) Curriculum is the statutory framework that sets out children's learning and development in the Foundation Stage. It gives children a broad range of knowledge and skills that provide the right foundation for good future progress through school and life.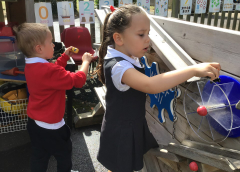 Your child will be learning skills, acquiring new knowledge and demonstrating their understanding through seven areas of learning and development.
Children should mostly develop the three prime areas first
Communication and Language (Listening, attention and understanding, Speaking)

Personal, Social and Emotional Development (Self-regulation, Managing self, Building relationships).

Physical Development (Gross motor, Fine motor)
These prime areas are those most essential for your child's healthy development and future learning.
As children grow, the prime areas will help them to develop skills in four specific areas
Literacy (Comprehension, Word reading, Writing)

Mathematics (Number, Numerical patterns)

Understanding the World (Past and present, People, culture and communities, The natural world)

Expressive Arts and Design (Creating with materials, Being imaginative and expressive)
These seven areas are used to plan your child's learning and activities which are tailored to suit your child's individual needs. The curriculum offers opportunities for direct adult teaching of knowledge and skills, and child led interests too. The children in the EYFS learn by playing and exploring, being active, and through creative and critical thinking which takes place both indoors and outside.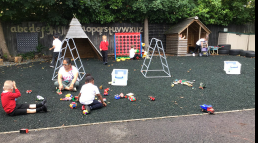 At Middleton, the children in EYFS follow a programme called 'Success for All' (SFA). This is a whole school initiative, that is based on research in the USA and UK to raise standards in reading and writing. In EYFS, a series of themes are used, designed to develop each child's skills and knowledge and aspects of learning behaviour through the use of Co-operative learning strategies. Children learn to work with others, as a group and with partners, this enables staff to support children in the speaking, listening and understanding skills too.
We consider ourselves partners in your child's learning. The activities that you do with your child at home are important in supporting their learning and development, and have a really long lasting effect on your child's learning as they progress through school.
How can you help at home?
Read books with your child everyday; look at pictures, predict what will happen…

Talk to your child about what they can see and prompt asking question.

Help with their weekly/half termly home learning sent from school.

Singing nursery rhymes/counting songs etc; explore rhyming words and rhythm.

Baking; talk about ingredients, healthy food choices, measuring quantities…

Playing outside; talk about the natural world, weather, seasons…

Play turn taking games.
---
New EYFS parents meeting 2022
---
We will be hosting a new parents meeting on Tuesday 24th May for all parents of children entering EYFS. This will be an opportunity to view information about the start of the new academic year and a chance to ask lots of questions. For parents that are unable to make the presentation it can be viewed as a powerpoint or PDF file below.