School closure - Emergency Information
17th July
Peterborough City Council - Test and Trace letter
Peterborough City Council - Schools reopening letter

---
Summer work packs
A letter regarding Summer work can be found here.
---
Schools reopening update from the Local Authority - 12th June 2020
---
Cross Keys Welfare Fund
Cross Keys Homes (CKH) launched a £1 million welfare fund last month to support its residents experiencing difficulties from the impact of Covid-19. The 'Be Kind' fund is ring-fenced exclusively to offer help to those living in CKH homes who have been impacted financially, socially or physically by the coronavirus crisis. Claire Higgins, Chief Executive of Cross Keys Homes, said: "Loss of income, higher costs that come from having children at home, pressures of supporting older and vulnerable family members – all these things can have a huge impact on any of us. For so many of our customers, there are no savings to fall back on and no disposable income available to provide a financial cushion. We've always been more than just a landlord so we believe we have a social responsibility to 'Be Kind' and help our residents come through these challenges. When life returns to normal we want our communities to be in a position to thrive once again and will be doing all we can to mitigate the long-term effects of this crisis."
In addition to the 'Be Kind' fund, they are also offering a range of practical help. The link to the 'Be Kind' fund is here: http://www.crosskeyshomes.co.uk/be-kind.
---
School Closure – Emergency Information
During normal school opening hours the school email address will be checked on a daily basis. Staff will be working remotely unless they are unwell.
office@middletonprimaryschool.co.uk
---
Government guidance for parents and carers during the school closures can be found at the link below (updated 17th April).
https://www.gov.uk/government/publications/closure-of-educational-settings-information-for-parents-and-carers
---
If you are concerned about a person that is extremely vulnerable, please see the government link below.
https://www.gov.uk/coronavirus-extremely-vulnerable
---
If you are concerned about a child being at risk of harm or a child's welfare please contact the following:
Peterborough Social Care – 01733 864170 / 864180 Out of hours – 01733 234724
Police – 999 / 101
---
If you are unwell or are concerned about your child being unwell or are experiencing mental health difficulties:
NHS – 111
---
If you are experiencing difficulties with financial hardship:
Bretton Baptist Church – 268068 (Food Bank Vouchers/Support)
Citizens Advice Bureau – 0344 499 4120
---
Peterborough City Council has information about access to free food in Peterborough on their website: peterborough.gov.uk
01733 234165
E-mail: info@peterborough.foodbank.org.uk
---
If you would like support with your child displaying anxiety:
Young Minds – 08088025544
Samaritans - 116 123 (Freephone)
---
National Domestic Violence Helpline
Refuge - 0808 2000 247
---
Access to legal aid and free family law consultation
Family Law Group Peterborough (01733) 394000
---
EHCP guidance during the COVID-19 closures
See the document below.
---
Support for children of Single parent families where the parent has themselves fallen ill
The NSPCC is available to support single parent families who are worried about the impact of the coronavirus, on their families.
Go to https://www.nspcc.org.uk/search/?query=CORONAVIRUS for general advice.
Families can also find a wide range of support in leaflets and contacts here. 'Gingerbread – single parents, equal families' also has advice and helplines for parents to use. https://www.gingerbread.org.uk/coronavirus/.
---
Support available for children and families affected by Domestic Abuse.
The National Domestic Abuse Helpline continues to operate 24/7 on 0808 2000 247.
There is a form you can complete online and they will call you back at a safe time https://www.nationaldahelpline.org.uk/Contact-us
Women's Aid online chat: https://chat.womensaid.org.uk/
Men's Advice line, for male victims: https://mensadviceline.org.uk/
Domestic Violence (Male) Advice and Enquiry Line: 0808 801 0327
Men Reaching Out Email: menreachingout1@gmail.com
Bright Sky is a free to download mobile app, launched in partnership with the Vodafone Foundation, providing support and information to anyone who may be in an abusive relationship or those concerned about someone they know.
https://www.hestia.org/brightsky
And for victims the police advise to phone on 999 if it is an emergency, and if unable to speak at that time, press 55 after the automated message. The call will then be transferred to your local police and callers will be given further instructions
Locally, Outreach Services are still available too:
Fenland/Hunts/Peterborough 07787 255821
For support around sexual violence - National Rape Crisis is still available and they also have online chat https://rapecrisis.org.uk/
The Elms Sexual Assault Referral Centre: https://www.theelmssarc.org/
Tel: 0800 193 5434 (24 hour)--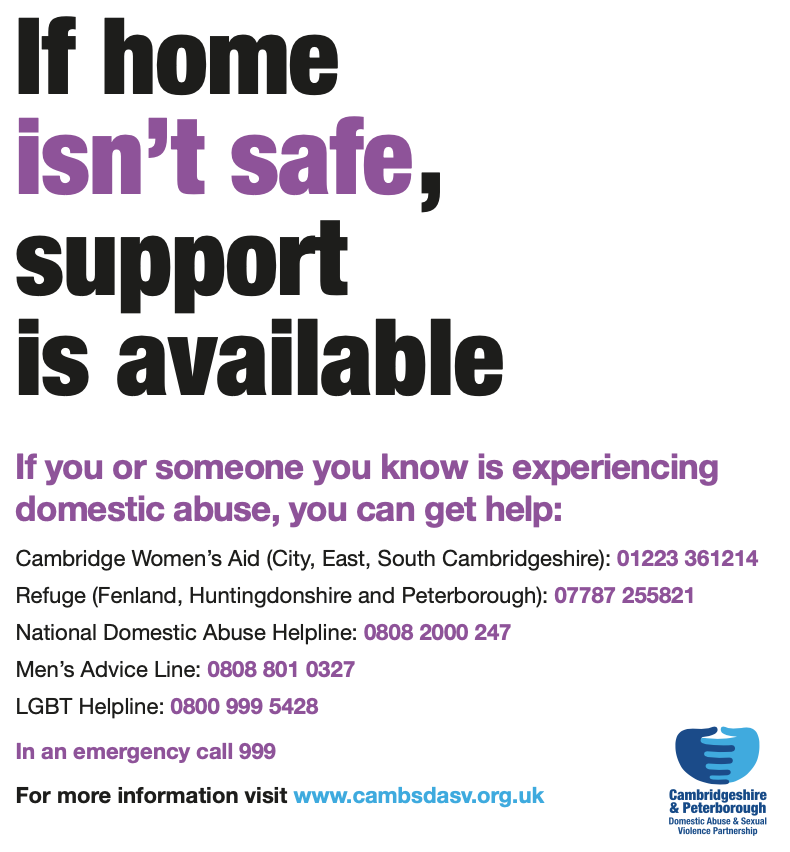 ---
Family Voice information
---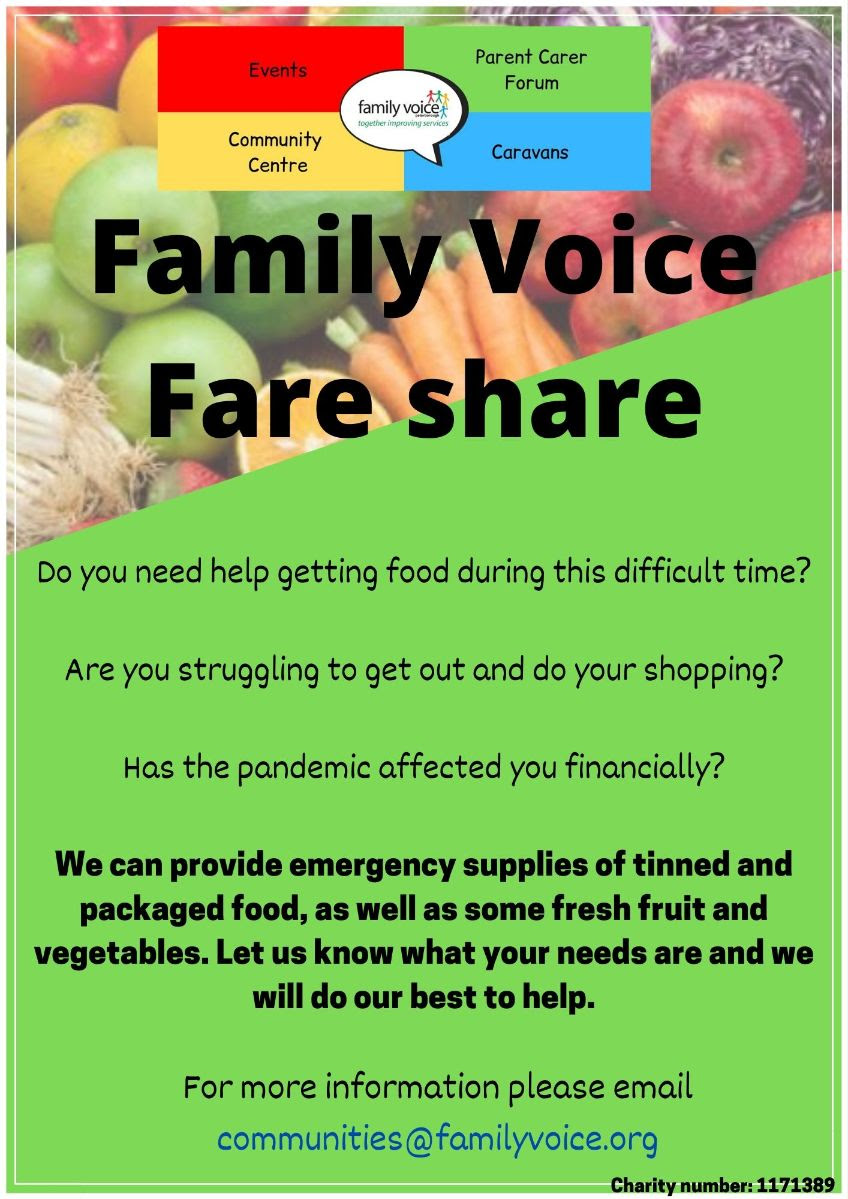 ---